YOU COME FIRST
Our priorities are a little different here. We believe that when you put relationships first, people and projects thrive. You'll see it from the moment you walk in our doors and you'll feel it throughout your entire experience.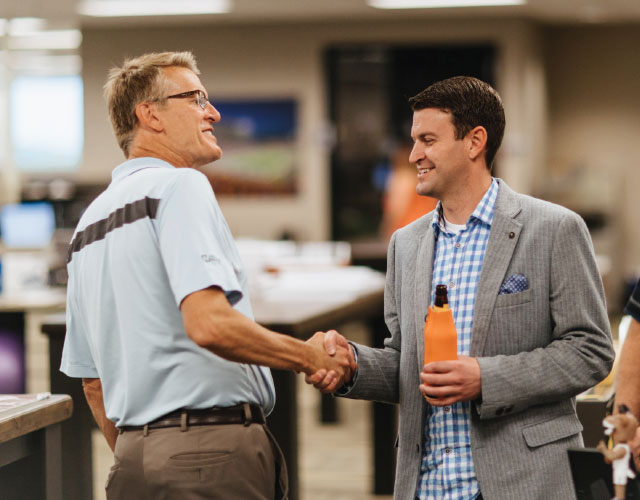 HOW WE WORK WITH YOU
At its core, our business is about creating spaces for people to thrive. In part, that means we work collaboratively to design and construct a building. But there is also a significant human element ingrained into this process — it's not simply about creating physical spaces. It's about creating personal spaces for interaction. That's why we design with the end user in mind and make sure we provide a better experience for them in the spaces we help create.
Our business is also about our people and their interactions to deliver a project. That's why our project management structure centers around conversation; then we count on our people to do the rest. And they do — listening to each client's distinct needs and then empowering our people to deliver a solution. Qualities like integrity, authenticity, resourcefulness, and innovation are the building blocks of a successful customer experience with us. Our customer experience process defines a consistent framework for these qualities to shine through.
We start our client partnerships by getting to know each other better first. We take pride in sharing our expertise across the industry to help solve tough issues. Our experts regularly present at industry tradeshows and conferences across the country, and we offer customized training to thousands of clients a year to help enhance their skills and maintain certifications. We get it — trust takes time to build. We believe our engineers are the best in the business, and we're excited to prove it to you.
Solid communication is the key to any successful relationship. That's why we'll listen to your needs first and work with you to develop engineering solutions that (really) work. Once there is a project opportunity, we make it easy to get started. We include a detailed menu of services that aligns with our project delivery process in every proposal. We check the services that we understand are in scope and leave the rest blank. It seems like a small detail, but to us it matters. We want you to understand exactly what's included in our proposal so we're both set up for project success from the very start.
While every project is unique, we believe there should still be an underlying consistency to the way we work. We have to deliver accurate, creative solutions to the design problems presented to us. To do this, we rely on an efficient, consistent process to perform fundamental tasks so our teams can focus on solving the more complex project issues — those that set us apart. It is a prerequisite that we are excellent at engineering design, not a differentiator. What makes us different is our ability to understand your needs and then work tirelessly until we find the right design.
Together with our subsidiary, Henderson Building Solutions, we deliver a smooth experience from blueprint to build. Our diverse experience in design, engineering, commissioning, and construction management services means you can count us for every aspect of your project. We integrate our services and our teams to flow together and take your needs into account every step of the way.
Our commitment doesn't end the day the building opens. Our intent is to be engaged throughout the life of the building to help you maintain, operate, monitor, and understand your new space. Buildings have personalities, and we want to be there alongside you as you get to know yours. That's why we created Henderson Building Solutions, a single—source, turnkey solution that bridges the gaps between design and construction, operation and performance, and maintenance and efficiency.