I recently wrote an article exploring the meaning of quality in relation to engineering. I described how we define quality at Henderson Engineers within our design process, and how our firm's end deliverable is quality work.
But our process – the actions we need to take to achieve quality work ­– doesn't live in some 1,000-page manual outlining each step we take to get there. Instead, we've applied Design for Manufacturing and Assembly (DfMA) thinking to modularize, streamline, and scale our processes and tools. I'd like to expand on how the DfMA philosophy influences the way we think about our quality processes at Henderson.
Henderson's Director of Innovation Sean Turner has written several articles on the topic, including a DfMA overview plus a case study describing how we implemented the process for a client. In his articles, Sean describes how DfMA focuses on the creation and use of components to increase efficiency, effectiveness, and assembly.
A simple way to summarize how DfMA thinking has impacted our processes and tools is by applying the lenses of just-in-time (JIT), just-enough (JE), and just-for-me (JFM) information.
What does this look like in practice? It starts with the creation of a clean shop.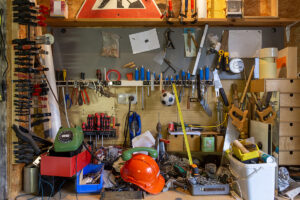 The first image of a messy shop represents a company without standards and/or process-improvement support. If this were my personal shop and I worked in it every day, I would know exactly where to find what I was looking for. But if I had to come in from the outside ­– say, as a new employee – I wouldn't know where to start.
The second image of an organized shop represents a company that's set up for success. Regardless of how my personal organization method differs from the way it's set up, I can still find the resource just for me.
At Henderson, you won't find a folder in our organization structure that contains every one of our tools. Instead, each process and tool has its own link on our Intranet or folder location on our server organized by category.
Next, each process and tool is curated to only handle its intended use. For example, we build calculators to only determine the answer we're looking for. If a separate calculation is needed, it exists as its own separate tool. This approach keeps the size of our tools small, modular, and maintainable – in other words, just enough for their intended use.
Finally, each process and tool is readily available – just in time – when you need it. We have leveraged the linking and search capability of our Intranet and Microsoft OneNote to create a Henderson Wiki page.
Here is the front page of our Henderson Designer Interface.
One of the features I appreciate about hyperlinks is how the link can exist in multiple places, but each instance points you back to a single location. In other words, there are many ways to find the information you need, no matter where you are in the design process.
The philosophy behind DfMA can apply to more than just physical manufacturing and assembly of quality components. It also applies to manufacturing and assembly of quality information. At Henderson Engineers, we apply our expertise in quality consulting to "be the firm that builds a better world."