This is the final article in a recent series on design for manufacture and assembly (DfMA). Previously, I introduced DfMA as a concept in the AEC industry, explored how to implement DfMA during design, and shared how DfMA can improve project installations. In this article, I'll tie it all together and explore the impacts of DfMA through four different lenses: BIM/VDC, Innovation, Quality, and Sustainability. I'll also discuss some of the challenges we faced and where we see the future of DfMA at Henderson.
Before discussing the impacts of DfMA on BIM/VDC, Innovation, Quality, and Sustainability, it's important to understand each pillar's lens.
BIM/VDC: Design Optimization
Innovation: Development of next-generation design toolkit
Quality: Progressing and supporting our engineering infrastructure
Sustainability: Regenerative design integration
BIM/VDC
DfMA is an important concept to our BIM/VDC department.  With a goal of design optimization, the more opportunities we find to apply a DfMA mindset to our designs and implement DfMA components, the more opportunities to create automation and processes that optimize our designs present themselves. This allows our design staff to be more efficient when designing their projects.
"Coupling a DfMA mindset with design technology speeds up adoption and implementation," said Adam Roth, BIM/VDC Director at Henderson. "With the addition of a data-first mindset, we start to unlock new levels of what we consider possible for AEC."
Innovation
As I've mentioned before, DfMA as a concept isn't new.  Even in the AEC industry, it's been around for quite some time, although it is often used interchangeably with other words and phrases (modular design, prefabrication, off-site construction). Its application in the AEC industry is also at a large scale (container modules, or fully assembled headwalls in healthcare).  Our approach to DfMA is different.  By developing components at the appropriate scale, we can use the simplest and least quantity of unique components to create bespoke building system designs to meet our clients' needs.
Quality
DfMA may not seem to have a direct correlation with quality at first.  But as you dig in and explore, you will find it provides many advantages to quality.
During design, using the duct module created specific design constraints.  This can be seen as a hindrance, but in fact, it is a benefit.  By reducing the number of different components to be utilized in the design, the number of variables is reduced; essentially reducing complexity.  This reduces the potential for errors. Additionally, with a repeatable component, automation can be introduced into the design which can help limit the potential for human error and create opportunities for automated quality workflows and checks.
During construction, quality is increased in many ways when utilizing the duct module.  First, the contract documents are more closely adhered to, improving the likelihood the installation meets the engineer's intent.  Second, installation is less complicated and safer.  Third, installation is more efficient which can reduce the potential for errors.
"I have found that the DfMA mindset impacts all aspects of our engineering infrastructure," said Jared Carlson, Director of Engineering at Henderson. " I wrote about many of its impacts in my article, "Applying DfMA Logic to our Design Process." More specifically, the duct module developed using the DfMA approach has allowed us to save our client's money while still maintaining a robust engineering design infrastructure and efficiency."
Sustainability
DfMA also supports project sustainability efforts like a circular economy, which focuses on reducing waste, circulating products, and regenerating nature.  The use of the specific duct module component directly supports the reduction of waste and circulation of products.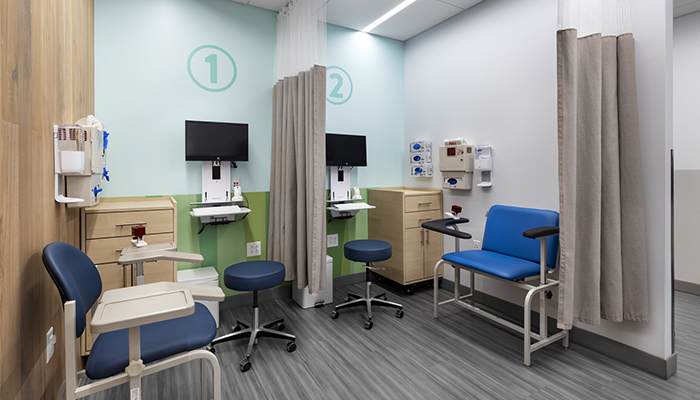 The manufacturing process of the specified duct module results in nearly zero sheet metal waste. In our recent health clinic projects where the module was utilized, even the Unistrut shipping container was able to be repurposed in the field.  Each of these applications allowed for reduced construction site waste, which also has an impact on overall project sustainability.
The duct module supports the circulating of products since it can be reused and reconfigured if the project was to be remodeled in the future.  It also allows for the possibility of repurposing the module to completely new project sites if the opportunity arose. Since this reuse eliminates the need to create a new component that serves the same purpose, it furthers the effects of the circular economy.
"Knowing that most of a product's environmental impact is baked in during the design stage, DfMA and the duct module are a foundational step in our pursuit of a circular economy," explained Brian Alessi, Sustainability Director. "DfMA supports our regenerative design efforts to design out waste, keep materials in use, and begin the process of regenerating natural systems."
Other benefits
Beyond these benefits, adopting a DfMA approach can lead to improved project schedules, which include design and construction, reduced cost, and increased site safety.
Challenges
In engineering, we like rules, but that can also lead to challenges when the rules are changed. One of the most common challenges I've come across with adopting the DfMA mindset for project design is the change from traditional design approaches.  With the duct module, we had to change the way we approached duct design when it came to pressure drops and total duct lengths.  There are rules of thumb that we use which on the surface inhibited the use of the duct module.  Once we truly evaluated those rules of thumb, we found that the use of the duct module fell within the constraints, but also added an element of simplicity.
Buy-in from the owner and contractors was another challenge that we ran up against.  For many, the DfMA mindset is a new approach. It's not what the owner or contractor is used to, so it can be met with skepticism.  These challenges were generally easily overcome through conversations. Ultimately, we learned it's most beneficial if everyone on the project team is on board with the DfMA approach from the outset.
Success Story: Walmart health clinic with MMA
Our success story for applying DfMA to a real-world project came in the form of a wellness clinic for Walmart with our client partner, MMA. The mindset for the project was modular and it created a great opportunity to utilize our duct module. Our engineering design team used automation designed around the duct module to increase efficiency and improve document clarity.
When asked about the impact of DfMA on this project, the client and project manager highlighted these key lessons:
Upfront coordination and collaboration must be very thoughtful.  More time and thought into constructability and coordination of all trades must be considered during design and thorough shop reviews are critical.
The installation of the finished project looked very polished, was quick, and kept the site clean.
Changes to the footprint that happened during construction were able to utilize the main duct runs. Since the duct branches were largely what changed, those portions had a smaller impact with the modular design.
From designer to fabrication to installer, collaboration with each member of the team is important. When everyone has a clear vision of the desired outcome, the process is faster and smoother.
Everyone must be on board from the beginning.
Conclusion
As an industry, I think we've only begun to scratch the surface of DfMA.  I envision a future where, if developed appropriately, DfMA components can be utilized to build any number of interesting and exciting buildings. Currently, many DfMA modules are quite large in scale when compared to their application.  Shipping container modular builds come to mind.  What will revolutionize and progress our industry forward is thinking smaller regarding module scale.  In the future, we can keep creativity alive by designing with (and designing) smaller-scale modules that have uses across verticals, not just specialized components.
There is also a lot of opportunity with a DfMA mindset.  If the industry took an 'open source' approach to component design, it has the potential to improve interoperability of components, increase use opportunities, reduce waste, and support a circular economy.
How does Henderson fit into the big picture? We are well-positioned as building system engineers to not only influence the construction (assembly) but also the design of components (manufacturing).  As application engineers, we have the unique position to design our systems around components and create opportunities for the rest of the construction industry to come along.  We are excited to explore other DfMA component opportunities and are actively researching ideas that will have a similar impact to the other trades, as the duct module has the potential to impact HVAC.  Stay tuned as we continue this journey.