At a project's conception, the renderings are clean, timeless. As construction begins and the building systems are integrated, more and more devices are incorporated into the design. Despite efforts to coordinate, at the final walk-through, you see it…a light switch and a thermostat, right next to each other, and they aren't aligned.
There's no single person to blame. From conceptual design to installation multiple people saw those switches but somewhere along the way, the design aesthetic was lost. At Henderson Engineers, we believe building systems contribute to the experience and should not detract from the architecture. Moreover, designing for a refined aesthetic doesn't always mean higher costs – it's about attention to detail and thinking of different ways to approach projects with the intentional placement of systems and components.
When we enter a space, we should be engaged in it, not distracted by it. For years we've been applying engineering aesthetics for our clients with everything from luxury retail spaces to health and wellness facilities to achieve the ideal balance between functionality, maintainability, and interior design in their spaces.
Principles of Engineering Aesthetics
Building systems, especially in retail spaces, shouldn't be seen, heard, or felt, but they better create a comfortable environment for customers and others who occupy the space – that's the point of engineering aesthetics. It's not just high quality designs, it's deliberate, thoughtful, and at times discreet, placement of building systems equipment and fixtures.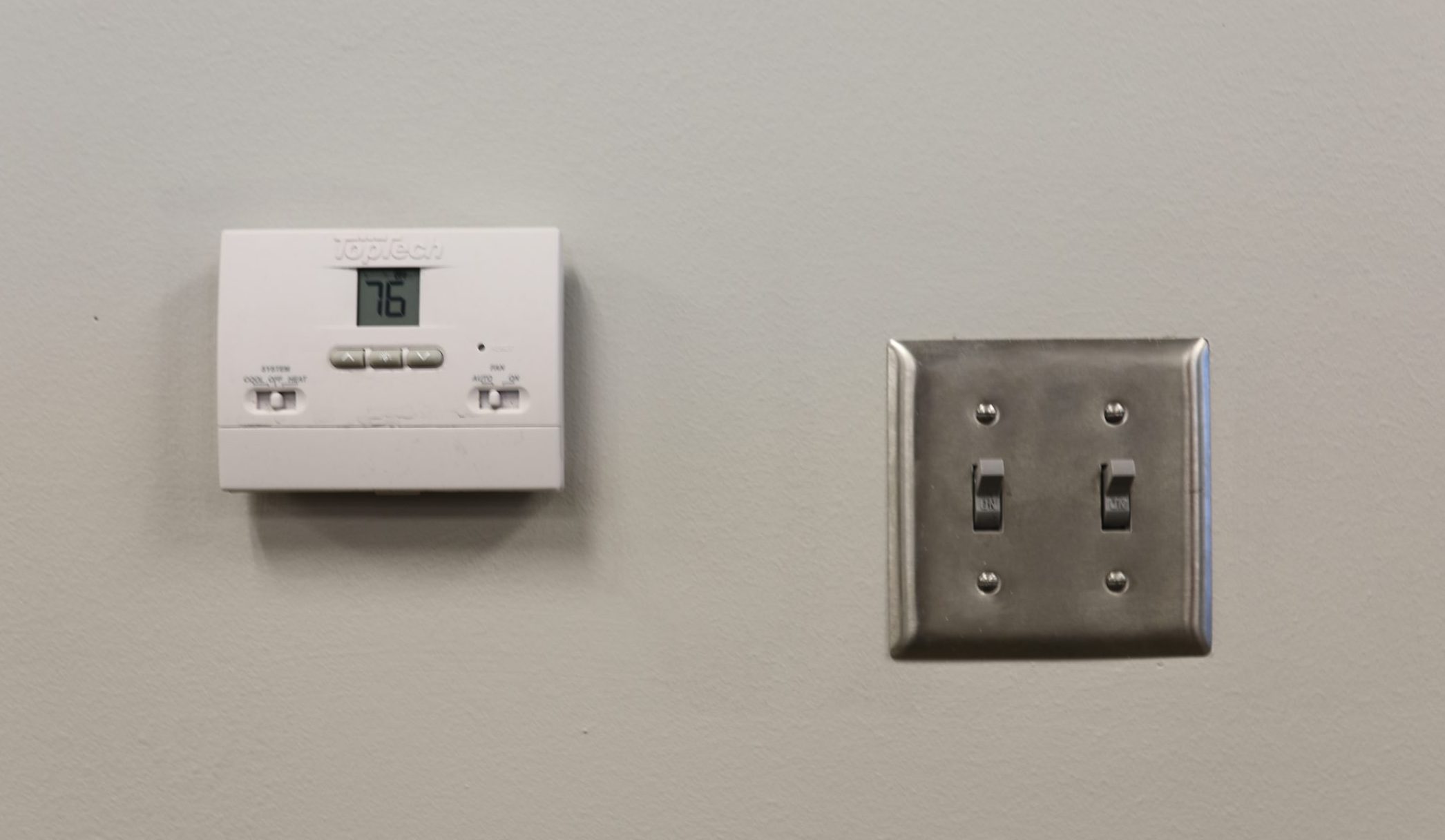 Slot diffusers and architectural reveals allow airflow distribution to be concealed within the architecture of the ceiling as pictured below. Return and exhaust air systems along with indirect light fixtures can also easily be incorporated into ceiling recesses, not only concealing building system components, but contributing to the architectural design of the space.
Other systems, such as temperature controls, electrical, lighting controls, security, telecom, and fire protection, can also be incorporated into the design. But instead of using architectural mechanisms to conceal these systems, fixtures are specified to blend in with other visual elements and are aligned to relate to the architecture around them. Electrical devices such as light switches, receptacles, data outlets, and lighting controls can often match colors or textures to go unnoticed by people experiencing a space. Even fire alarms and sprinklers can often be recessed, colored, and aligned with other architectural elements making them less noticeable.
A less obvious tactic for engineering aesthetics is analyzing and reviewing the acoustics in the space. Noise and vibrations caused by building systems shouldn't be noticeable; by understanding acceptable levels of noise in the space, acoustics experts are able to balance white noise and human interaction as part of the design process. Testing and balancing or even functional performance testing is also important to reducing noise in a space, especially when it comes to mechanical equipment that can create an audible distraction if off balance. Airflow noise from diffusers or duct mains should also be taken into consideration.
Noise pollution in a space can lead to negative emotions for the occupants including stress and frustration, which can impact a patron's retail experience. To keep systems quiet and in balance, system maintenance is critical. During design, serviceability of equipment should be coordinated including any required access panels. Although access panels should be avoided if possible, if they are required to maintain the equipment, lift-and-shift type access panels can be used to keep them more concealed.
Lastly, airflow direction and placement should be considered, paying particular attention to seating areas and occupant locations within the space. In a previous article, Comfort that Contributes to the Bottom Line, James Dietz explained that most people detect airflow at their head and neck around a velocity of 40 feet per minute. As a general rule, people should not feel airflow. There are multiple factors that can cause tactile airflow, but proper testing can help prevent and correct this issue.
Why Incorporate Engineering Aesthetics
So why should we care about engineering aesthetics? At Henderson, we say why not:
We spend a significant amount of our time in buildings so designing in a way that enhances that experience and makes it positive and healthy should be considered.
Many of the strategies for engineering aesthetics add no cost to the project but can enhance end users' experiences.
Many owners are placing greater value in the interior design of their spaces to create an atmosphere that appeals to their target clientele.
For many of our clients, creating an exceptional customer experience is the ultimate goal for their space; and by applying the principles of engineering aesthetics, we're able to help them make that vision a reality. It's about coordinating with the team to integrate and balance system functionality, maintainability and energy efficiency with the aesthetic essential for their project. If we can help you create a better experience through engineering aesthetics, please contact us today.